Gem Section
A Special GMS Group
for People Interested in Gems
Gem Section Meets
Last Monday Every Month
Ah, the jewels of the rockhounding world. Gems come in many different forms, but one thing is usually certain -- someone took something normal and transformed it into something spectacular!

Join us at Gem Section to see rocks when they are all dressed up and even dress up a few yourself!

If you have any questions about Gem Section, please send email to

Gem Section Message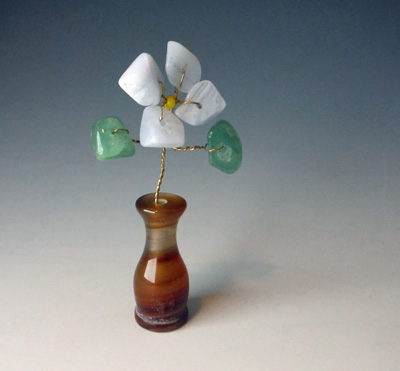 Date: June 25, 2018
Time: 7:30 pm
Speaker: Lori Carter
Topic: Making Gem Flowers
Location: GMS Building


I hope everyone enjoyed their Memorial Day Weekend. It's nice to have a long weekend.
This month we have our usual last Monday of the month Gem Section Meeting. Lori Carter will be demonstrating and leading us this month. She has a little project using beads and wire to make a little flower pot decoration. If you have a small pair of plyers and/or wire cutters, you might bring it to the meeting. If you do not have these tools, there will be several pairs you can share.
I hope to see everyone at the meeting. As usual, we will fold, address and stamp the paper copies of our Tips and Trips before the meeting starts.
Jay Gorday,
Gem Section Chair
Click below for a map and directions