Sand Section
A Special GMS Group
for People Interested in Sand
Sand Section Meets
Wednesday after the General Meeting
Every Month
If you think sand is just tiny rocks, the insignificant stuff of beaches and dunes, or simply a substance with the ability to invite itself into regions of your clothing where it is most unwelcome, then you need to take a closer look. Consider a sample of green sand. Some grains have bubbles or inclusions. Some are angular and some are rounded. What is it? How did it form? Or how about another sample that looks like tiny stars? What are those little things? How did they end up in some sand? Well, now you know why we have a section for people interested in sand!

So, those of you who thought you were the only person weird enough to think it was a good idea to keep baggies and jars full of sand -- come join us! Even if you still think sand is just tiny rocks, even if you think you already have enough hobbies, or even if you just want to see what all the craziness is about – come join us!

If you have any questions about Sand Section, please send email to

Sand Section Message
Date: Wednesday, July 11, 2018 (Note: postponed 1 week because of 4th of July holiday)
Time: 7:30 PM
Location: GMS Building
Topic: Perry & Teresa Curl Donation
Trading: Perry & Teresa Curl Sand


At the June Sand Section meeting, Thom Hopen gave a presentation about writing sand. He explained the history, misconceptions, and science. He brought some examples of sanders and I brought some too. Many thanks to Thom for a fascinating look at how sand was used in times past. Also, many thanks to members who recently donated sand: Bill Hart, Tom Faller, and Rose To!
In July, we will be cataloging and sampling a large donation of sand from GMS members Perry and Teresa Curl. Once upon a time, Perry was a pirate! Okay, not a pirate, but he was a boat captain -- much cooler! His sailing adventures took him to many exotic locales and he would bring back sand for Teresa. Plus, he and Teresa visited many places in the U.S. and collected sand. Please join us and help catalog this beautiful collection into the GMS collection and take home some samples for yourself!
Lori Carter
Sand Section Chair
Click here for the GMS Sand Collection List
Special Event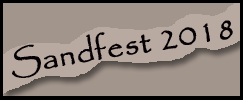 ISCS SandFest 2018
Jacksonville, FL
September 20, 21, 22, 23, 24
Mark your calendar for ISCS SandFest 2018! This conference is for anyone interested in sand including sand collectors, artists, biologists, and geologists. It will be held in conjunction wth the Jacksonville Gem & Mineral Society's annual rock show in Jacksonville, FL.
There will be field trips, presentations, workshops, and of course, plenty of sand trading!
For more information click,
here
2018 Sand Calendar
The 2018 sand calendar is here and, as always, the pictures are stunning and the write-ups are well-researched and educational! GMS members can purchase a calendar for $5.25. If you are not a member of GMS, you can purchase the calendar on ebay
here
If you would like to purchase a calendar, please contact Lori Carter at
New Sand Book
ISCS member and Sand Section supporter Kate Clover recently released a new sand book with co-authors Dr. Gary Greenberg and Dr. Carol Kiely.
"The Secrets of Sand" explores the various places and ways sand is formed. Beautiful images of sand as well as thorough and engaging text make this a must have book for your sand library.
Now available on Amazon, Barnes & Noble, and other bookstores
Heavy Sand Article
The Fall 2015
Rock & Gem
special gold issue is now available and this time it contains an article about heavy sand processing written by sand Section chair Lori Carter!
To purchase a copy of the magazine, please see the special issue website at:
http://www.beckettmedia.com/special-issues/rock-n-gem-sip
Click below for a map and directions