About Georgia
Georgia State Mineral
Staurolite

In 1976, staurolite was named the official state mineral. Georgia has a wealth of minerals, among them staurolite crystals, popularly called "Fairy Crosses" or "Fairy Stones." Particularly abundant in north Georgia, the distinctively twinned, crossed crystals have been collected for generations as good luck charms.
Georgia State Gemstone
Quartz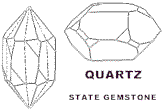 In 1976, quartz was chosen as the official state gem. It is common in Georgia and found in a wide variety of colors. The resolution making quartz the state gem cited two particular forms: the amethyst, which is mostly used in jewelry, and the clear quartz, which, when faceted, resembles the diamond.
Georgia State Fossil
Shark Teeth

In 1976, the shark tooth was designated the official state fossil. Probably one of the most sought-after fossils by amateur collectors, the shark tooth is a relatively common fossil in the Georgia coastal plain. In fossil form, the shark tooth can be traced back 375,000,000 years. Fossilized shark teeth are found in a range of colors--from the more common blacks and grays to whites, browns, blues and reddish browns.
Geology of Georgia
Elevation of Georgia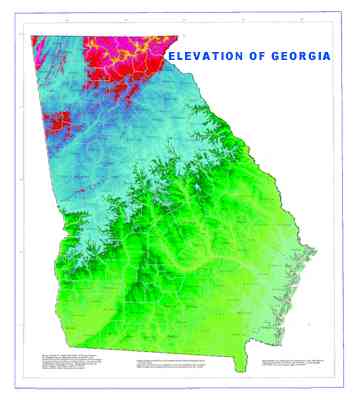 Satellite View of Georgia