GMS Field Trip
Ducktown Basin Museum
Burra Burra Mine
Central Headframe
Collecting: Garnet, Pyrite, Chalcopyrite, Pyrrhotite, Actinolite
The Ducktown Basin Museum is located on the historic Burra Burra mine site
where 300 acres of denuded land has been set aside as a memorial
to the devastation of the Copper Basin.
Discover Copper Basin history in the Ducktown Basin Museum
Museum Director, Ken Rush, gives a talk on the mining
equipment used in the underground mines
Electric "mule" used to move the ore in the underground mines
Large drill bits!
Large drill bits!
Small drill bits!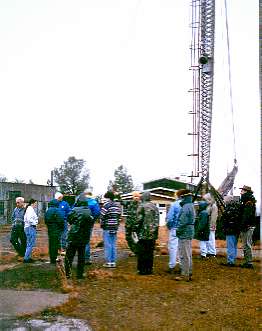 The "closed-in" headframe of the Burra Burra Mine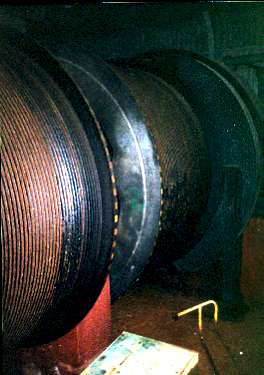 At the Central headframe...
Massive machinery used to power the cables that lifted the ore
from the underground mines into the headframe and onto the railroad cars.
As a child, in 1958, I visited Ducktown where my Mother's brother, Owen Kingman, was a Geologist at the Burra Burra Mine. At that time, the main shaft was the deepest vertical shaft in North America at just over 1/2 a mile straight down. Behind the tall building over the shaft was a giant sawdust pile that went down into the hole that had developed in 1958 or '59 after an underground cave in. I suspect that the lake in the pit is the same one we used to swim in. Houses were located above the area to the East of the main tower that lowered the cars and men into the mine.



Many trips here as a child were of great interest to me and my cousins and I collected many garnets and explored many vent shafts that were all around the then barren landscape. I recall a large silver painted water tower on my first few visits in early 1957 and I was only 4 years old. It was gone in 1960 I believe after the main connecting tunnels caved in. The water tower was right next to the Mine superintendents house, which was shared with my uncle, Owen Kingman and his family.

I have always desired to return there to photograph the area and reflect on what I had seen as a child.

Rob Breisch
Artist and Photographer
Olympia, WA.
Click below for field trip policies