GMS and DMC Field Trips
RUCKS' PIT
FORT DRUM, FL

Collecting: Well-fossilized and calcified marine shells
Fossilized bone and teeth
Honey colored calcite crystals found within large fossilized clamshells
There is an abundance of well-fossilized and calcified marine shells. The coquina matrix is in the Nashua Formation (Pleistocene) and is composed of cemented marine fossils with calcite. Any cavities within these fossils may contain calcite crystals. Honey colored calcite crystals up to 1" in length can be found within large fossilized clamshells. Small calcite crystals within shells are very common. Fossilized bone and teeth can also be found at this location.

DMC Field Trip
January 18, 2003
"You Say Fossil, I Say Mineral"
Eighty-six members from 12 different clubs gathered at the Fort Drum General Store on January 18, 2003. The instructions of "not Fort Drum Diner" seem to have been good enough especially since there is only one road running through town and these are the only two businesses. It was a cold morning for south Florida - 37 degrees and fairly windy; however, it turned out to be a beautiful sunny day with high temperatures in the 60's. After we arrived and were escorted into the pit, everyone wandered around looking for the "good stuff". It seemed to take about an hour before people settled into their digging surroundings. One area of the pit was producing mostly gastropods with fossilized whelks while other areas seem to produce mostly large clams. Generally, the large clams produced specimens with larger calcite crystals. After a couple of hours, some people were interested in going to the wash area to collect specimens while many people desired to stay where they were. The wash area contains many easily accessible specimens, but the processing that they go through damages many of the fossils and bruises the unprotected crystals. I saw many beautiful gemmy, honey-colored, calcite crystal-lined shell geodes ranging from 4-7 inches that will be prominently displayed in people's collections. Extremely well preserved cowry, olive, tulip and cone shells, shark teeth and some fossil bone were also found along with the whelks and clams. Whether you are a fossil or a mineral collector, this location has a great supply of beautiful specimens. I hope everyone had a great day.
Mickey Cecil, President
Jacksonville Gem and Mineral Society
Fort Drum Rock Swap and Cookout Report
October 11 - 12, 2003 Field Trip
There were 126 people from 22 clubs (Fossil and Rock clubs) and 9 states that showed up at the Ft. Drum General Store for the Rucks' Pit field trip weekend of October 11-12, 2003. Dr. Ed Petuch from FAU spoke about his soon to be released book of rare shells from Rucks' Pit. He also spoke in depth with many of the collectors about the environment of the area approximately 3 million years ago as well as the geologic features and formations up to the present day. Mark Renz was also present with his new book about Florida fossils and had a beautiful display of vertebrate fossils. Some of the specimens collected that I saw include an excellent specimen of a llama (camel) jaw with 7 teeth, several alligator and shark teeth, and many examples of beautifully preserved seashells including several of the, as yet to be named, cowries. Buckets of well calcified clams and busycons were collected with several matrix pieces containing 5-6 clams with large calcite crystals. The Easy People Band played country music both evenings after a day of collecting while everyone sat down to a plate of barbeque, baked beans and cole slaw. Eddie hopes everyone that attended had a great time. He also wanted me to inform the DMC members that he will be providing tours of the quarry for collectors. I will be allowed to arrange a couple of club field trips a year to the quarry, but individuals that would like to go at other times will have to make arrangements with Eddie Rucks (863-634-4579).
Mickey Cecil
Field Trip Chair
JACKSONVILLE GEM & MINERAL SOCIETY
Rock Hunting Ft. Drum
October, 2003
What a great trip. Really couldn't ask for a better experience. This was the first rock trip my family took together, Pam, Britney and Sarah, my dad, Craig, and our close friends Jon and Elaine and their children Nikkei and Robin as well. What a treat for me. I got to spend quality time with the ones I love, doing what I enjoy and to pass on the skills and techniques to my children and friends in a hobby I hope they will come to enjoy.
When we first arrived in the quarry, I had a surprise waiting for my two girls. Just as we were about to head down to the pit, I stopped Britney and Sarah and told them I had something for them. From behind my back I handed an engraved shinny new rock pick to Britney and the other hand a matching set of a hand rake and hand shovel that were brightly colored to Sarah. Their eyes got as large as calcified clams. We took a few pictures and headed on.
We spent most of the first day at the bottom of the main path leading into the pit. After a short dissertation with our group of what to look for and how to extract specimens and a demonstration on how to safely use the tools, everyone settled into a comfortable spot and started chipping away. I enjoyed watching our kids exploring and discovering new things and interacting with each other. Their amazement of finding an interesting shell or rock and then franticly trying to show what they had found to one another stopped my searching many times as I was snapping pictures.
My dad and friends couldn't make it back for day two. Then my wife and kids wanted to try their luck in the tailing piles. I thought this was going to be a boring day and miss out on all the action, oh how I was wrong.
I started out chipping away in the last spot I was in the day before where I had found some nice specimens. There was a lot of overburden I'd have to contend with as the day went by and decided to clear out way more than I had been so that I could take my time later and not rush things. The day before I had nicked and chipped many nice pieces and decided to take it slow. I found that using a bucket to dip water out of the pond and pour it over the strata would remove most of the loose dirt and clay. This revealed the concretion material and I could easily determine how to hammer it away. Once I uncovered a specimen I would remove the under burden as well and could extract the specimen whole with no accidental strikes. There's nothing worse than crushing something you've just spent 20 min to an hour trying to get out.
This process was working so well that I was able to pull out a really nice cluster of four clams with nicely exposed calcite crystals. I was so excited I stopped right then and hand carried it to the truck, showing it off as I went just as my kids were doing the day before. When I returned I thought I'd try it again and this time remove even more overburden. My diligence and patience paid off. As day two was winding down I pulled out an even nicer cluster. This one had six clams, all with well-defined exposed calcite bridges and large crystals. I felt like I was on cloud nine as I hand carrying this one back to the truck as well. Mickey Cecil stopped me to see what I had. His exuberance and astonishment heightened my own excitement. Mickey insisted that I drop by the tent to show everyone before leaving for home.
At the Bar-B-Q area I got to meet Mr. Rucks and personally thanked him for allowing us this opportunity to explore and enjoy his quarry. He said that he had never seen such a nice piece let alone in a cluster like that before. I put the piece back in the truck and headed to the tent area. After about 30 min of showing it off to all that came around it was time to head home.
My family and friends thoroughly enjoyed the opportunity and experiences afforded to us by the efforts of Mickey Cecil and by the permission of Eddie Rucks. Thank you very much and I hope we can do it again some time.
Jason B Hamilton, Member
JACKSONVILLE GEM & MINERAL SOCIETY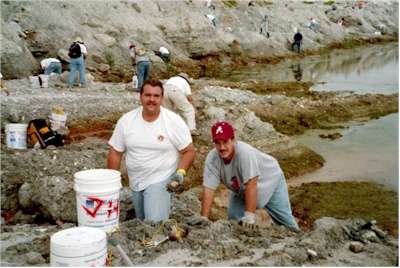 Jason and Jon Hamilton
Collector, Jason B. Hamilton (JGMS)
close-up from the picture above. . .
"uncleaned" calcite/clam cluster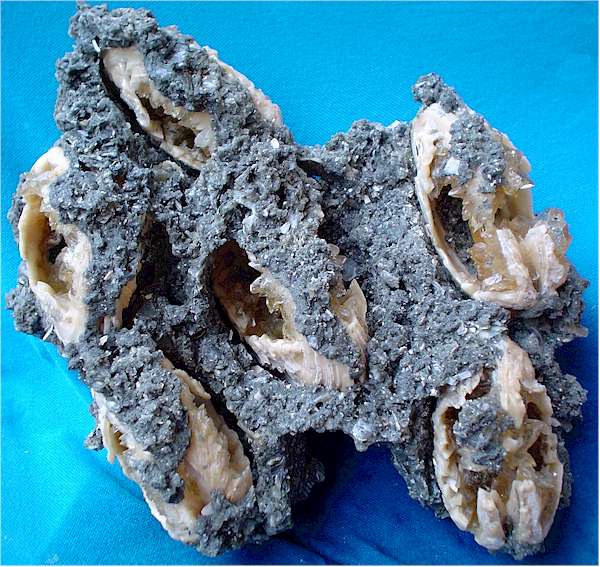 Cluster of PISMO CLAM- (SP. MERCEUARIA)
GMS Trip Report
October, 2003
On Saturday, January 18, 2003, we headed for Ruck's Pit Quarry in Fort Drum, FL. and spent the entire day collecting calcified fossils. The mine owner was very gracious going out of his way to show everyone where to hunt for the best material and making sure throughout the day that everyone was safe and happy.
Photograph by Lori Carter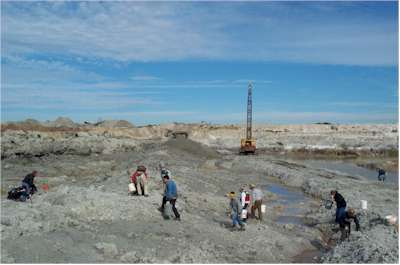 Photograph by Mike Streeter
large crane in quarry floor
Photograph by Mike Streeter
mine truck entering quarry for another load
Photograph by Mike Streeter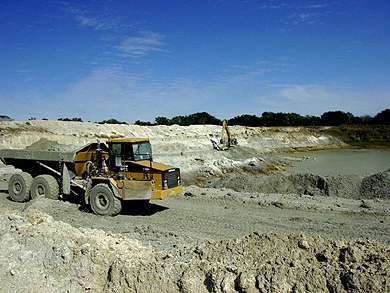 Photograph by Mike Streeter
mollusk digging area
---
Many calcified mollusk shells filled with druzy honey-colored calcite crystals were dug from a soft sandy limestone layer beneath a much harder fossiliferous limestone. This left a somewhat precarious overhanging shelf of rock shown in the picture above.
Photograph by Mike Streeter
calcified clam collecting area
---
This area of the mine produced mostly calcified clam shells from a fossiliferous limestone that was below the water table. The mine is dewatered with large pumps to allow access to a location that would otherwise be beneath many feet of water. Collecting in this area was wet but very worthwhile.
Photograph by Mike Streeter
washed rock area
---
An assortment of calcified fossils and calcite crystals could be found in the washed rock pile. This rock is piled up in this area by miners to await further crushing to finer material.
Photograph by Lori Carter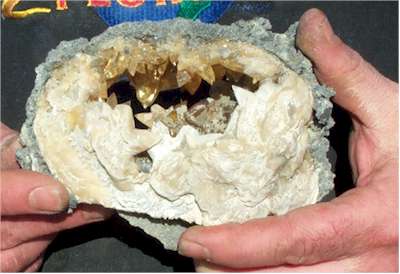 Specimen collected by Al Klatt, GMS member
Photograph by Jim Flora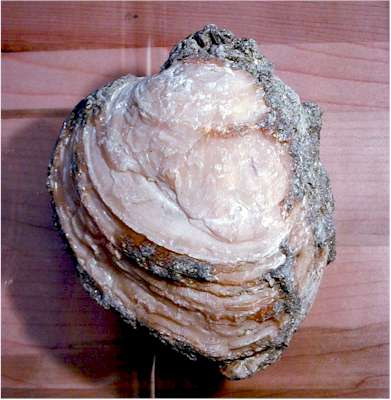 Photograph by Jim Flora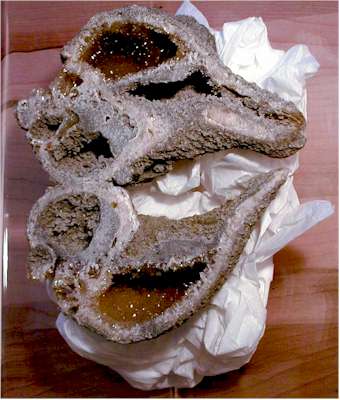 Photograph by Mike Streeter
Chrissy Streeter
Photograph by Mike Streeter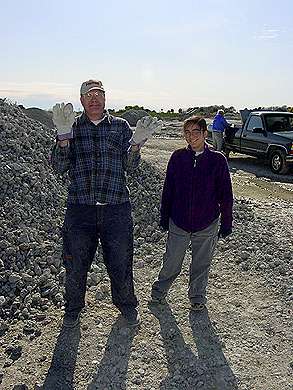 Charles and Lori Carter
Photograph by Mike Streeter
Mickey Cecil and wife , Barbara
Fort Drum Rock Swap and Cookout
October 11 - 12, 2003 Field Trip
"The meeting place"
"The Sign-in table"
Specimen examples were shown...

Rucks' Pit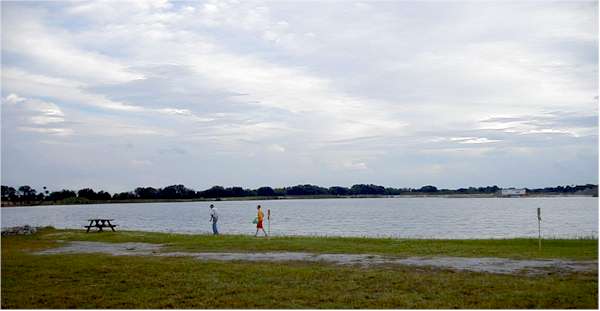 Rucks' Lake
Quarry operations
The Swap and entertainment area
Swap tables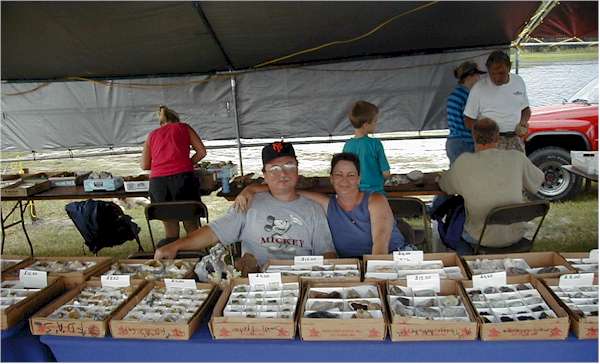 Mickey and Barbara Cecil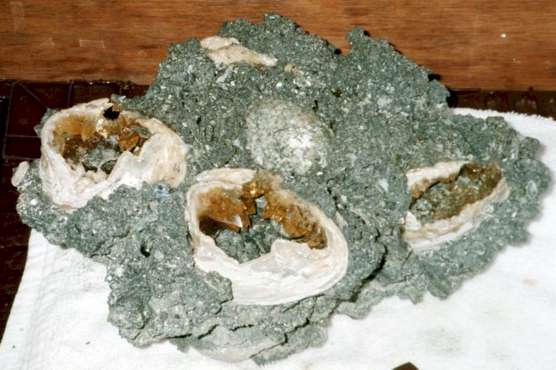 A great specimen from Rucks' Pit
Click below for field trip policies