Micromount Section
A Special GMS Group
for People Interested in Micromounting


"Come and explore the micro world with us!"
Micromount Section Meets
Fourth Wednesday
Every Month
Many of the most well-formed and beautiful crystals must be viewed with the aid of magnification. Furthermore, many mineral species only form in microscopic crystals. The process of preparing a specimen for viewing and viewing and photographing micro-mineral specimens is a distinct area of mineral collecting called "micromounting".

Join us each month as we explore different aspects of the micromounting hobby: making micromounts, magnifiers and microscopes, photographing micro-minerals, and identifying micro-minerals. Our monthly meetings alternate between workshops to discuss micromounting techniques and talks by leading micromount collectors sharing information about their favorite micro-mineral site.

Interesting Articles and Links
Click
here
for a list of zoom links from past Micromount Section meetings.
Click
here
for articles about micromounting.
Click
here
for photomicrographs.
Click
here
for a Micromount Supplies and Equipment List.
Click
here
for Micromount Club Zoom Meeting Videos.
If you have any questions about Micromount Section, please send email to
Micromount Section Message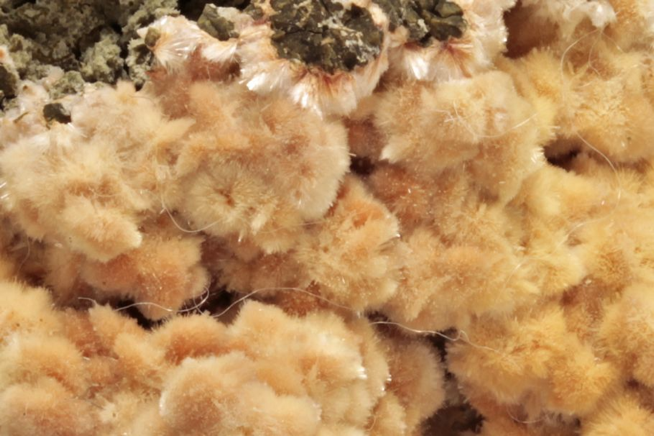 Above is a beautiful ferrierite specimen from Monte Lake, British Columbia. Note the cotton fiber crisscrossing the field of view,
a tricky situation for removal.


Date: July 27, 2022
Social Time: 7:00 PM EDT
Meeting Time: 7:30 PM EDT
Topic: Cleaning Micro-mineral Specimens
Link: Click here and on the GMS calendar here for the link


Cleaning micro-minerals can be especially challenging, not just because of the small size of the specimen, but also special handling required by some minerals. The usual techniques for cleaning macro-minerals like soaking in vats of acid, ultrasonic cleaning, blasting with canned air, and scrubbing with a brush don't scale down to the world of microminerals, and these common techniques could harm the specimens. A sample of cleaning issues facing the micromounter include delicate crystal clusters, tight workspaces, soluble minerals, and the fact that some minerals are sensitive to vibration (could vibrate crystals off the matrix). This month we will discuss methods used to clean and remove dust, dirt, stains, and the ubiquitous cat hair from our microscopic treasures.
Julian Gray and Bob Madden
Micromount Section Co-chairs
Click below for a map and directions